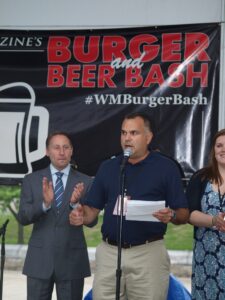 Ralph A. Martinelli
CRMA Lifetime Achievement Award Tribute
Ralph was my business partner along with my brother Rich.  We had the pleasure to work with him in our second-generation family business Today Media for the past 35 years.  He led a successful magazine, event and digital business in the Hudson Valley and Westchester.  For 16 months, Ralph had been dealing with the aftereffects of a catastrophic brain injury and had battled valiantly to recover.  He was just 57 years old when he passed away last November.   
Ralph started in the family business by doing circulation and selling advertising for Hudson Valley Magazine.  He covered the Westchester County territory for the magazine.  Ralph was great at sales and a keen marketer.  He quickly became the magazine's top salesperson and Westchester its biggest territory.
In addition to covering the Westchester Territory for Hudson Valley Magazine, Ralph was instrumental in building a custom publishing operation in Westchester.  In the 90's he developed a partnership with the Business Council of Westchester to produce Westchester Commerce Magazine and started a Performing Arts Network of Playbills for local organizations. 
But Ralph wouldn't stop there.  He had a vision and passion for Westchester County.  He loved magazines and believed in the medium. At Ralph's urging the family bought Westchester Spotlight Magazine.  As publisher, Ralph re-branded the magazine Westchester Magazine and the rest is history.  Under Ralph's tutelage Westchester Magazine became one of the finest regional lifestyle magazines in the country.  It was Ralph's vision and leadership that grew the magazine from 12 monthly issues to a multi-media brand that includes 914Inc, Westchester Home, Westchester/Hudson Valley Weddings, WestchesterMagazine.com and 20 events annually including such iconic events as Best of Westchester and Westchester Wine and Food Week.  Ralph put his heart and soul into growing these events by collaborating with the community and always finding a local non-profit to be the beneficiary.
One of the testaments to Ralph is the fact that Westchester and Hudson Valley magazines have continued to thrive these past two years without him because of Ralph's ability to put a great team together.  One of his longtime employees said that Ralph was smart, caring and would do anything if you asked.  She said I rarely saw Ralph get upset.  He had a lot of patience.  He related to his employees on a personal level which is the mark of a great leader.  He was also proud that two members of the third generation of Martinelli's – Mike and Jack were contributing to the success of the company.
Ralph was a leader in his community as well as with the CRMA.  He served on the board of directors of Arts Westchester and the Hudson Valley Food and Beverage Alliance and partnered with the Food Bank of Westchester.  Westchester Magazine actively supported and contributed to over 200 local charities each year.  Ralph served two terms on the Board of Directors of CRMA.  Westchester Magazine hosted a CRMA Publishers Conference in Westchester.  People still talk about Ralph's hospitality and how he was so proud to show off his Westchester County for Publishers from around the country.  One publisher said, "I will forever think of the many good times shared at CRMA conferences, and his genuine desire to help and share his great ideas with all of us."  Another publisher said, "Ralph brought fun to the CRMA.  So easy to forget that joy is essential to our work.  I will miss him so."
Two Westchester business leaders said it best.  His publications defined Westchester but did not define Ralph.  Despite his great success, he always remained humble, albeit self-deprecating at times.  He always will be remembered as a friend but also an integral advocate for living life to its fullest surrounded by family and friends, with great food and wonderful wines.