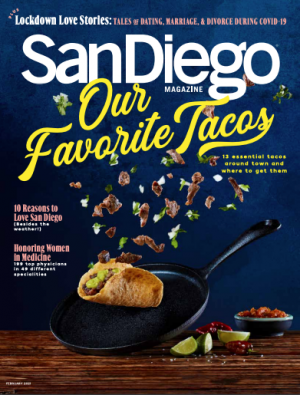 Started as a monthly magazine in 1948, San Diego Magazine is now a 360-degree new-
media company documenting life and culture in the country's eighth-largest city. Across
all media—print, video, podcasts, social, e-newsletters, events and live experiences—it
is a vivid, artful insider's take on how to tap into the past, present, and future of San
Diego's highly active, diverse culture. Our award-winning writers, photographers,
videographers, and artists highlight what to eat, drink, see, and do, while also covering
real estate and development, architecture and home design, technology and innovation,
culture and philanthropy, sustainability and wellness. But SDM isn't just about tacos or
retail or architecture or yoga. It's about people. The people who make that taco, build
that business, write that song, and downward that dog. From the wild ideas of a startup
tinkering in a garage, to the perspectives of the world's most accomplished CEOs and
innovators. From those who've made it to those who are making it. We explore issues
that impact the region, helping locals and visitors alike understand the things that truly
matter. It is a guide to a city, and a multimedia exploration of its evolution.
Publisher and Chief Content Officer: Troy Johnson, 619-230-9292,
tjohnson@sandiegomagazine.com
Director of Integrated Media: David Martin, 619-744-0532,
davidm@sandiegomagazine.com
Chief Operating Officer: Claire Johnson, 347-224-8236
Parent Company: San Diego Magazine, LLC
Frequency: Monthly
Audit: CVC Ads-Local-Color: $6,547 gross
Ads – National – Color: $7,706 gross
Median Age: 48
Average Household Income: $222,963
Subscription Price: $18.00

Cover price: $6.95
Circulation: 41,151
Other publications: Healthy Kids, Visit Oceanside, San Diego Health