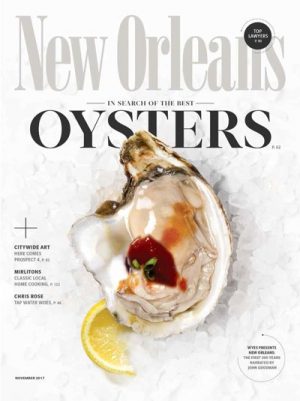 About NEW ORLEANS MAGAZINE
110 Veterans Blvd.
Suite 123
Metairie, Louisiana 70005
Phone: (504) 828-1380
Email: todd@myneworleans.com
Website: www.myneworleans.com
New Orleans magazine celebrates the culture of this great 300 year
old city. Each month we focus on celebrating life in New Orleans with
an editorial mix of history, food, cocktails, home, health,
fashion and entertainment. Among our continuing annual features are
Mardi Gras, Top Doctors, Top Dentist, Top
Lawyers, Top Real Estate, Top Female Achievers, Best in Dining,
Gulf Coast Travel, Festivals and Tops of New Orleans.
Parent Company: New Orleans Magazine
Frequency: Monthly
Audit: Circulation Verification Council
Ads-Local-Color: $5,910
Ads – National – Color: $5,910
Median Age: 49
Average Household Income: $199,854
Subscription Price: $19.95
Circulation: 22,012
Cover Price: $6.95
Other Publications: New Orleans Homes, New Orleans Bride, St.
Charles Avenue, Biz New Orleans & Acadiana Profile, Louisiana Life
& Custom Publishing.