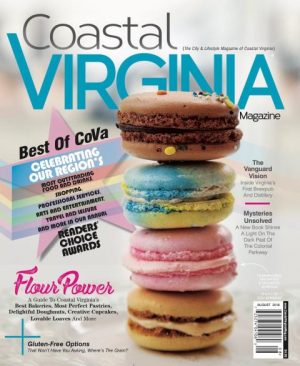 1264 Perimeter Parkway
Virginia Beach, VA 23454
Phone: (757) 422-8979
Fax: 757-422-9092
Email: randy@vgnet.com
Website: www.coastalvirginiamag.com
Coastal Virginia Magazine is the premier city and lifestyle publication showcasing the quality of life in coastal Virginia. Committed to informing, enlightening and entertaining the readers, Coastal Virginia Magazine addresses issues of importance to the coastal Virginia community and examines local trends in a well-written and colorful format.
CEO & Publisher: Randy Thompson, 757-422-8979 x101, randy@vgnet.com
President & Associate Publisher: Paul Brannock, 757-422-8979 x103, paul@vgnet.com
Vice President Production: Holly Watters
Editor-in-Chief: Leona Baker, Editor-in-Chief, leona@vgnet.com
Art Director: David Uhrin, 757-422-8979 x118, david@vgnet.com
Marketing Director: Lisa Davenport, 757-422-8979 x130, lisa@vgnet.com
Parent Company: Vista Graphics, Inc
Frequency: 6 times
Audit: Circulation Verification Council
Ads-Local-Color: $4,430
Median Age: 77% 35 – 64
Average Household Income: 71% over $75,000
Subscription Price: $9.97
Circulation: 30,000
Cover Price: $4.95
Other Publications: CoVa BIZ, Lynchburg Living Magazine, Lynchburg Business, Coastal Virginia BRIDE, Central Virginia Bridal Guide and visitor/destination guides in 14 markets.