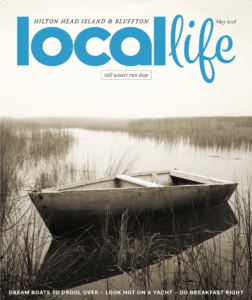 LOCAL Life
Address: 400 Main Street
Hilton Head Island, South Carolina 29926
Website: http://www.locallifesc.com
Description: LOCAL Life is a upscale lifestyle brand that brings a print publication, engaging social media channels and digital experiences as well as intimate live events to active adults in Hilton Head and Bluffton, South Carolina.
Parent Company: Momentum Media
Frequency: 12 times
Audit: Yes
Ads-Local-Color: 50-60
Ads-National-Color: 4
Median Age: 55
Average Household Income: $250,000
Subscription Price: $19.95
Circulation: 30,000
Cover Price: None
Other Publications: None
Meet the Publisher
LOCAL Life Publisher, Lori Goodridge-Cribb, is a 31-year resident of Hilton Head Island and is married to David Cribb. She has two daughters who were raised on the island — Ashley and Brittany. As the current publisher of LOCAL Life she oversees the production of the Lowcountry's premier lifestyle magazines. Lori has been a publisher for more than 25 years.
"There are so many wonderful people living here that have such wonderful stories," says Goodridge-Cribb. "I am lucky enough to be in a position to help share those stories with our readers. Even after 25 years, I'm still surprised by the intriguing stories we just stumble across each day."Goodridge-Cribb is a native of Middletown, Ohio and received her Bachelor's degree from the University of Maryland. She has called Hilton Head Island home since 1986.
Get the Conversation Started
As the lifestyle magazine of Hilton Head Island and Bluffton, South Carolina, LOCAL Life embodies the sophistication, beauty and style of the much-celebrated South Carolina Lowcountry. Our upscale printed magazine and innovative digital assets capture readers with eloquently written words, stunning photography and outstanding design. Distributed to a loyal audience of affluent readers — residents, visitors and second-homeowners alike — it is a conversation starter among family, friends and colleagues.
Events for Advertisers
LOCAL Life offers special events titled "A LOCAL Life Partner Experience." One experience is "Lunch & Learn," an ongoing series of digital sessions offered by LOCAL Life that "feed your mind as well as your body." For example recent Lunch & Learn sessions have included "5 Social Media Must-Do's for Small Business" and "Everything You Wanted to Know About GeoFencing but are Afraid to Ask." Space is limited to 12, with no more than two representatives from each advertiser. "Lunch and Learn" takes place at LOCAL Life headquarters on Hilton Head Island.