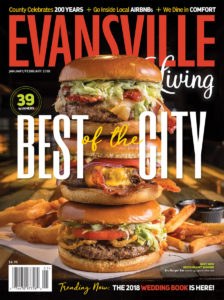 Address:
223 NW Second Street, Suite 200
Evansville, Indiana 47708
Phone: 812-426-2115
Fax: 812-426-2134
Email: ktucker@evansvilleliving.com
Website: http://www.evansvilleliving.com
Description: Evansville Living magazine is the ultimate guide to life in Evansville, connecting readers – more than 60,000 of them – to where they live by helping them make intelligent choices on issues, lifestyle and entertainment options unique to the city. The magazine informs, entertains and challenges readers with lively writing, stunning photography and national award-winning design.
Additional Information:
Publisher/Editor: Kristen K. Tucker, 812-426-2115, ktucker@evansvilleliving.com
President: Todd A. Tucker, 812-426-2115, ttucker@evansvilleliving.com
Creative Director: Heather Gray, 812-426-2115, hgray@evansvilleliving.com
Managing Editor: Trista Lutgring, 812-426-2115, tlutgring@evansvilleliving.com
Parent Company: Tucker Publishing Group
Frequency: Bi-monthly
Audit: CVC
Ads-Local-Color: $3,570
Ad-National-Color:
Median Age: 49.5
Average Household Income: $88,000
Subscription Price: $18.00
Circulation: 12,123
Cover Price: $4.95
Other Publications: Evansville Business (Bi-monthly)
Meet the Publisher
Kristen K. Tucker formed Tucker Publishing Group along with her husband Todd in September 1999 and published the first issue of Evansville Living in March 2000.
Kristen, publisher and editor of Evansville Living, has more than 30 years experience in journalism, public relations, and marketing. She holds a bachelor's degree in public relations and English from Western Kentucky University, Bowling Green, Kentucky, and a master's degree in liberal studies from the University of Southern Indiana, Evansville, Indiana. Prior to forming their publishing company, Kristen's jobs had her writing press releases on casters, caskets, garage doors, and oil filters; managing credit union internal and member communications; and at one point she even served as a stock broker and then a bank wealth company trust officer, where her first task on the job was selling a herd of cattle.
Tucker Publishing Group magazines have won dozens of awards through the years from the City & Regional Magazine Association, the Advertising Federation of Evansville, the Evansville Design Group, and the Indiana Society of Professional Journalists.
A native of Des Moines, Iowa, Kristen moved with her family to Evansville, her father's hometown, in 1971. Kristen and Todd have two children, Maxwell, 19, a sophomore at Butler University, and Jackson, 16, a high school sophomore. Kristen enjoys walking, travel, hot yoga, and reading.
Our Work Matters
The magazine staff are often told that Evansville Living is what sold someone on the city — that a particular person or family didn't know if they were going to move here, open up a shop here, visit the city, etc., until they were given a copy of Evansville Living and that sealed the deal. Being told they make a difference, that they help the city in many positive ways — it's what keeps them going during late deadlines. Kristen says, "We're not saving lives here, we like to say, but what we do matters and our magazines matter to the city."
Special Interest Publications
In addition to Evansville Living, the company, Tucker Publishing Group, publishes a bimonthly business magazine, Evansville Business. The publishing company also produces numerous custom pieces, including magazines, for clients.
Festivals and Projects
Their signature event for 13 years has been the Newburgh Wine, Art, and Jazz Festival held in a neighboring town, along the Ohio River, in late May.
They've also have produced the Evansville Living Idea Home, similar to most city magazines "Idea Home" or "Dream Home" projects. Throughout the projects' history, the majority of the homes were luxury new builds; however, a historic home remodel in an urban area was the 2010 project. "We would like to do another Idea Home and talk to builders frequently," says Kristen. " Of course, fewer luxury spec homes are being built today. Still, we hope to reintroduce this successful and fun project."
Growth in Traditional Print & Custom Design
In their market, Kristen says there is ample room for growth with their traditional print advertising products. Each day brings new prospects. They also project growth in custom graphic design and print projects for clients, as well as in events.
Evansville Living is the keeper of the calendar — yet we have not maximized our own event revenues. They believe consumers and readers do have a bit of event fatigue — so many choices; so many events — but there is room for quality, targeted events and clients are willing to pay them to deliver these consumers, our readers.
The Brand
Evansville Living is the flagship magazine of Tucker Publishing Group (TPG). As a result, many people think of the magazine as the company, and we don't have a problem with that; it's our brand. TPG, for example, does not have a website; the website is www.evansvilleliving.com.
TPG also produces magazines for clients, like Memorial Memories, a private school alumnae magazine published twice annually.
TPG has about 15 employees, including interns and part-time help (11 full time employees) who work on all TPG magazines and custom projects. The offices of TPG are in the Historic General Cigar Factory building in Downtown Evansville. The second-floor offices feature a loft-like interior with old brick and support beams and tons of large windows — a very creative environment.