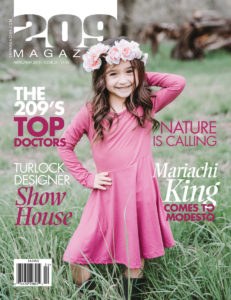 Address: 138 S. Center Street
Turlock, California 95380
Phone: (209) 634-9141
Email: hvanderveen@209magazine.com
Website: http://www.209magazine.com
Media Kit: 
Additional Information:
Publisher: Hank N. Vander Veen, 209-249-3503, hvanderveen@209magazine.com
General Manager: Drew Savage, 209-847-3021, dsavage@209magazine.com
Editor: Kristina Hacker, 209-634-9141, khacker@209magazine.com
Creative Director: Harold George, 209-634-9141, hgeorge@209magazine.co
Parent Company: Morris Multimedia
Frequency: 6 times
Audit: CVC
Ads-Local-Color: $1,950
Ad-National-Color: $2,750
Median Age: 40
Average Household Income: $100,000
Subscription Price: $18.00
Circulation: 15,000
Cover Price: $4.95
The Company
209 Magazine is a part of Morris Multimedia based in Savannah, GA.  They are a privately owned company owned by Charles H. Morris.  In California they publish 209 Magazine as well as seven newspapers and other products.  The company is mainly in the south operating magazines, newspapers and television stations. They have also become a full-service digital services agency.
They leverage three offices with nearly 20 reporters from other publications in each issue. They also leverage our sales force from all offices. This gives them a regional approach since they also produce daily and weekly newspapers.  The company has been established in the California Central Valley for more than 40 years.
Focus and Pride
209 Magazine's focus is on the entire 209 area code region. They are a lifestyle magazine highlighting the people, places and activities in and around the region. They are most proud of the fact that after only four years of publishing they have become an integral part of the fabric in their community.  Group Publisher Hank N. Vander Veen says, "The proudest moments are when I talk to someone and the recognize our magazine right away."
Specialty Publications & Local Involvement
The largest specialty publication that 209 Magazine produces is their Best of 209 issue that is published every August. Winners are based on community votes and highlighted in the magazine.  They also publish a monthly 209 Business Journal.
209 Magazine produces an all start High School basketball game as well as a Women's Leadership roundtable. They also participate in as many local events as possible.
Areas of Growth
Since they are still a fairly new publication, Vander Veen says they see a growth opportunity with National Advertisers.  "We have made some headway and continue to push in that arena," he says. " One of the reasons we joined CRMA is to establish contacts and give our magazine national credibility."  They also plan on establishing more branded events.