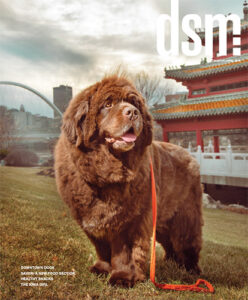 Meet the Publisher
Ashley Bohnenkamp, publisher of dsm Magazine, joined Business Publications Corporation, Inc. (BPC) in 2009 as an account executive for dsm Magazine and was promoted numerous times in multiple roles.
In 2017 she launched WriteBrain, the custom publishing division of BPC and in 2018 was promoted to her current role as publisher of both divisions. Ashley graduated from Wartburg College. She currently serves the community as the advocacy chair for United Way of Central Iowa's Women United, as a member and board member of the Rotary Club of Des Moines, a Girl Scout troop leader, and youth volleyball coach.
About the Magazine
Bohenkamp says dsm Magazine is a trusted authority on Des Moines' arts, cultural and philanthropic communities. "dsm Magazine is a catalyst and a community builder through authentic storytelling and original journalism," she says.
Special Interest Publications
The publication produces This Is How We Do Des Moines, a one-of-a-kind guide to Greater Des Moines. It is essentially an editor's pick on lifestyle, shopping, dining and recreation. An online version is available.
They also include sections within the magazine on Home, Weddings, and Health, and are looking at ways to expand those sections into standalone special interest publications. Special coverage has been given to a variety of special interest topics including Lifting the Veil, a community focused piece on the topic of mental health.
Events
The publication currently offers recognition events for their Sages Over 70, which recognizes community leaders over the age of 70.
New this year (2019) is the LGBTQ Legacy Leader Awards recognizing those within the LGBTQ community who are leaders and role models and the LGBTQ Ally Award for someone who is not LGBTQ but who has devoted their lives to equality, inclusion and civility for all across Iowa.
They also have an unveiling party hosted by a sponsor for each new issue of dsm Magazine.
Areas of Growth
Bohnenkamp says the magazine is looking to extend the brand to special interest and social issue publications – not just sections. Custom content sections and social media campaigns are also of interest.
Contact
If you'd like to reach Ashley Bohnenkamp you can email her at: ashleybohnenkamp@bpcdm.com