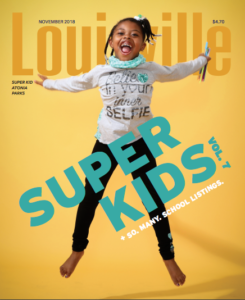 Meet the Publisher
In September, Matthew Barzun purchased Louisville Magazine from Dan Crutcher, who had owned the magazine since 1993. Matthew served as U.S. ambassador to the United Kingdom from August 2013 to January 2017, and as U.S. ambassador to Sweden from August 2009 to May 2011. He joined CNET Networks in 1993 as its fourth employee and held various management positions during his 11 years with the company. He is an active member of the Louisville, Kentucky, community, where he has served on the boards of several civic and nonprofit organizations, including the Louisville Free Public Library, Public Radio Partnership, Center for Interfaith Relations and Louisville Urban League. He served on the board of Gannett from July 2017 to August 2018.
Meet the Magazine
Louisville Magazine turns 70 next year. The editorial staff includes: editor, managing editor, senior writer, web editor and art director, plus a team of contributing writers, photographers and artists. As a city, Louisville is a little Southern, a little Northern, a little Midwestern. It's bourbon and music and horse racing. It's progressive but prideful of its rich history. In other words: Louisville is weird. And Louisville Magazine reflects that.
Louisville Magazine is committed to deeply reported narrative journalism. In recent years Louisville Magazine has published stories on the city's surge in homicides, the future of coal in Kentucky, evictions, and the problems facing the part of town known as the West End, a collection of nine predominately African-American neighborhoods.
Special Interest Publications
In addition to the monthly, Louisville Magazine also publishes Louisville Bride twice a year, a bar guide called SWIG twice a year, a dining guide called EATS, a health guide called FIT and a college guide.
Events and Parties
Louisville Magazine throws a Best of Louisville party and, in December, a Prohibition-Repeal Day party for our SWIG publication.
Growth Focus
Louisville Magazine plans on doing bigger and better events in the future, and exploring new business models built around growing our subscriber base.
Louisville Magazine
137 W. Muhammad Ali Blvd., Suite 101
Louisville, Kentucky 40206
Website: https://www.louisville.com/
Staff:
Josh Moss, Editor, jmoss@loumag.com
Suki Anderson, Art director, sanderson@loumag.com
Mary Chellis Nelson, Managing editor, maustin@loumag.com
Other information:
Median Age: 53
Average Household Income: 85000
Subscription Price: 22
Circulation: 22000
Cover Price: 12
Other Publications: Louisville Bride, SWIG, EATS, Fit, College Guide