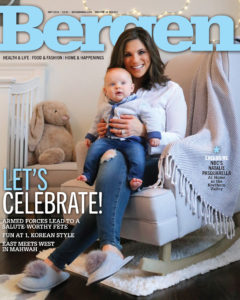 Name of Publication(s): Bergen Magazine (Wainscot Media)
Name of Publisher: Wainscot Media; Thomas Flannery, Publisher
Area of Coverage: Bergen County, New Jersey
Frequency: 12x
Distribution: 43,750
Meet the Publisher
Thomas Flannery started as a marketing manager in business-to-business publishing and eventually got into sales and then management. He has worked in the regional magazine/media arena for about 20 years, beginning with a statewide start-up. He moved on to a large media company that produced daily and weekly newspapers, magazines, events and digital products. For the past 2 1/2 years he's been a publisher at Wainscot Media – a company that is a significant player in custom publishing, healthcare media, local magazines, digital and events.
His Marketplace
Besides Bergen Magazine, Flannery is the publisher of two other regional magazines in New Jersey and a shelter magazine that covers the northern and central areas of the state. "It's where I'm from and it's where I have lived most of my life, and I feel at home being involved in local magazines here," says Flannery. "I love this "genre" of publishing, too – every issue we produce is something different and exciting, and gives readers information they can use that day, or that night, or tomorrow."
Engaging the Audience
Bergen Magazine is always on the lookout for interesting personalities with local roots because people love reading about people. "We inspire readers with feature stories on healthy living, great homes and fun escapes; we tell them where they can shop and eat well, right in their back yards; and we offer them great ideas on where to go to make memories with families and friends," says Flannery.
What events do you host?
Bergen Magazine annually hosts BergenFest, which is an exciting night that features outstanding food from local restaurants, entertainment, exhibits from area businesses and much more. It will again be held at MetLife Stadium, which is where both the New York Giants and New York Jets play professional football. It's a much-anticipated and talked-about event. Their other regional magazines also host similar, but slightly smaller, events.
What special interest publications do you produce?
Their 12th issue is an annual guide to the county and polybags with the January issue. "We promote it as a "keeper" issue that people hold on to for 12 months," says Flannery. NJ Home is their quarterly shelter and real estate magazine that is distributed within Bergen County and beyond. While the company produces more than 40 custom magazines (primarily in the menswear and jeweler industries) all across the country, a few are created for businesses based right in Bergen County.
Challenges
"I have benefited in the past when some of the previous magazines I worked for were part of CRMA," says Flannery. "I particularly benefited from the information sharing of other publishers, sales directors, and marketing directors." Flannery says one of their current challenges is with events and their lack of ability to bring in large sponsors to participate. He'd like to pick the brains of those who run successful events and find out how they are able to draw in large sponsors.
Second, like everybody, the switch from print dollars to digital dollars has affected them, although not heavily; while they are gaining traction with digital, their programs might be a bit different from that of other CRMA members. They sell things like programmatic ad buys, retargeting ad buys, Facebook advertising, SEO, and social media marketing. They don't sell banners on their site(s), as they have found doesn't bring in many repeat visitors. "I'm curious to hear "success stories" on retaining print dollars. At the same time, I want to hear what others are doing in the digital landscape to increase dollars," he says.
Third, while they are super-strong custom players, they don't do much with in terms of producing publications for local chambers, business groups, events and more. Flannery would like to learn more about how we improve here.
Fourth, he'd like to see what new special ad sections other publishers are producing and having success with. "Our "Faces" campaign has been super successful, and we've been doing Top Docs, Top Dentists, Top Lawyers and Top Real Estate Agents," he says. "Are there some new, hot special ad sections that are pulling well for others?"
And, finally, Flannery would like to find out how to successfully launch, and sustain, a business magazine. "I've had some experience with this (and have called many CRMA publishers in the past for advice), but with only modest success," he says. "What makes for a successful business magazine in a market – both editorially and sales revenue-wise?"
Future Opportunities
"I'm optimistic, because our company's core divisions have so much growth potential – custom publishing, health care publishing, digital of all kinds, and regional magazines," says Flannery. "We have gained ground while others around us have grown tired, stagnant or old." Flannery says his company is very nimble and willing to take chances through acquisitions and start-ups. "We do have a lot of "cheesy" competitors out there, though; they lack rate integrity, and lack high standards in terms of editorial and design quality. Worse, several are getting away with "fake" circulation, I believe, and their advertisers don't call them on it," he says. "I would love to weed out these businesses so that those remaining are the ones with strong values. Wainscot Media has integrity and that is one of the main reasons I love working here."