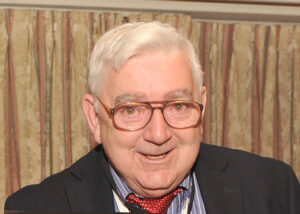 It is with great sadness that we announce the death of C. James Dowden, the president and CEO of DEI, an association management firm headquartered in Los Angeles, CA. Jim passed away peacefully on Tuesday, March 23, 2021. He was 78.
A skilled and diplomatic leader, Jim served as the executive director for dozens of associations while at the helm of DEI. His vision for the company will be continued by his daughter, Tracey Dowden, also an experienced association management executive, who worked alongside her father for over 22 years.
Before establishing his own association management firm in 1991, Jim was a graduate of the University of Maryland (1965) majoring in political science and held executive positions at Community Associations Institute (CAI), National Association of Regional Councils (NARC) and the Maryland Municipal League.
Jim Dowden was deeply loved and respected by family, friends and colleagues across the country and around the world. He was a beloved husband, father and grandfather, as well as a savvy businessman, a voice of reason and a cherished mentor. His death is a tremendous loss for the people who knew and worked with him. Jim is survived by his wife of 55 years, Sue Dowden, his daughters, Tracey Dowden and Elizabeth Musnicky, his grandchildren, Sarah Musnicky and Christopher Musnicky, and three siblings, Ron Dowden of Dundalk, MD, Barbara Hastings of Glenville, PA and Melissa Dowden Dyniec of Centreville, VA.
Donations in Jim's honor may be made to the American Heart Association.