National City and Regional Magazine Awards
It's that time of year! Time to submit your entries for the 2018 National City and Regional Magazine Awards competition. There are several items to note regarding this year's competition:
The deadline for receipt of submissions is 

Nov. 17, 2017

. This year's competition will include entries from January 2017-December 2017.
Award entries will be submitted through an online entry system. You can find instructions for logging into the entry system, category descriptions and all other rules in the full awards Call for Entries PDF available for download here. ALL entries must go through the online entry system. There are some specific categories that must have materials mailed, but every entry should start in the online system.
Payments must all be made either by credit card or check (payable to CRMA) sent to the University of Missouri School of Journalism with submitted entries. All entries must be prepaid and will be removed from judging if payment has not been received by 

Nov. 17

. Once entries have been submitted, you will also be taken to these payment instructions. 
The Awards will be presented in conjunction with the Annual Conference scheduled for June

 2018 in New Orleans, LA

. 
​If you have read the instructions and are ready to submit your entries:  
NEW! OPTIONAL CRITIQUE
If you have submitted entries for GENERAL EXCELLENCE consideration, judges in these categories will offer one page critiques of your magazine for an OPTIONAL $50 fee. This private document will be sent to you following the annual meeting. The critiques will include observations about the writing, reporting, design, packaging and, in general, how your magazine compares to other entries in your circulation group.
If you have submitted a General Excellence entry and wish to add this critique option, check the box on the form when paying for your entry fees.
Questions?
If you have any questions or need further information regarding the Awards Competition, feel free to contact Kim Townlain at the University of Missouri (573/884-1869, crma@missouri.edu).
PS – Missed last year's Awards presentation?Award winners were announced at the May 2017 Conference in Houston, TX. You can view the video presentation.
CALL FOR ENTRIES
Click on the Call for Entries brochure to download and review rules, category descriptions and instructions for accessing online entry system.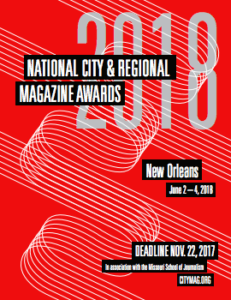 Contact 
CRMA
 with questions.